Nigerian crossdresser, Idris Okuneye who is known as Bobrisky has issued an apology to his former best friend, Tonto Dikeh.
According to Bobrisky, he has said many unpleasant things about Tonto on social media and he has realized that he did not do things right.
The post Bobrisky made reads;
"Tonto, I humiliated you here so is a must I come back here to apologize for calling you out !!! I honestly didn't know what came over me, but I later realize I was wrong… pls find it in your heart to forgive me. Yes I might have be there for u as friends, the truth is you were also there for me at some point of my life. Pls find it in ur heart to forgive me once more. We necessarily shouldn't be friends no more but let me apologize for calling you out.
To my fans, and to tonto fans I'm sorry many of you are disappointed at me, pls forgive me and I promise never to repeat dis no more."
Many people thought by now Tonto Dikeh would have replied Bobrisky but that isn't the case as she has ignored him, at least for now, as she drops some stunning photos of herself.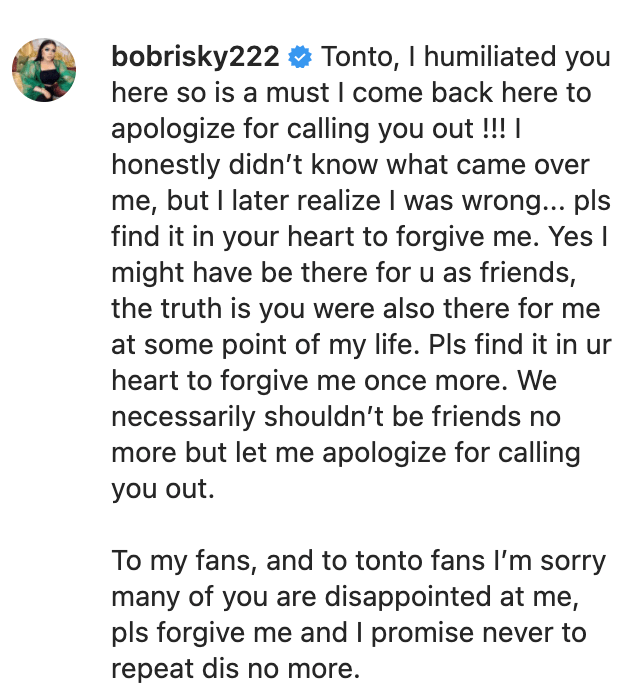 For advert placement, Sponsorship, Media Video or Music Promotion, and to Publish Your Stories with us, Call/ WhatsApp/ Telegram: +2349138493600 | Find us on any Social Media: @bobojaytv
Nollywood actress, Tosin Shokoya has acquired a multimillion naira mansion in the United S…